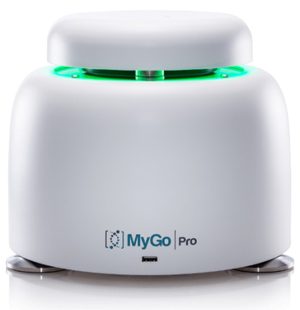 MyGo Real Time PCR
The MyGo Pro real-time PCR instrument provides unmatched performance in a convenient format. Novel Full Spectrum Optics deliver 120 optical channels of fluorescence data from every tube in parallel, with no moving parts, for reliable multiplex PCR. High performance Peltier elements, and solid silver blocks, provide both speed and world leading thermal uniformity. The result is rapid, precise, quantitative PCR and melting point analysis. Advanced algorithms combined with an intuitive user interface support a broad range of applications, operating systems and connection options. Performance made easy...
Dimensions
W 25cm x D 27cm x H 23cm
Weight
7kg
Operating noise
< 40 db(A)
Electrical
Voltage 100 - 240V AC ± 10%
Frequency 50-60Hz ± 10%
Power 170W
Number of reactions
32
Format
0.1ml tubes / 8-tube strips
Reaction volume
10 - 100μl
Temperature control
Peltier
Range
37-99°C
Speed
5°C/s heating, 4°C/s cooling
Run time
< 40 minutes
Temperature Resolution
0.01°C
Uniformity
0.05°C (SD)
Accuracy
± 0.25°C
Fluorescence excitation
500nm (blue LED)
Fluorescence detection
510 to 750nm (CMOS array)
Fluorescence channels
120 optical channels
Sensitivity
Single copy detection
Dynamic range
9-log
Precision
1.1 fold discrimination
Factory calibrated dyes
SYBR Green I, ResoLight, FAM, VIC, HEX, Yellow 555, Red 610, TexasRed, Cy5, CAL 540, CAL 560, CAL 590, CAL 610,CAL 635, JOE, Pulsar 650, Quasar 570, Quasar 705, ROX, TAMRA, TET
User chosen custom dyes
Yes
Supported assay formats
Intercalating dyes (e.g. SYBR Green I), Hydrolysis Probes, Molecular Beacons, Simple Probes, Hyb Probes
Connection option
LAN, Direct connection to computer (RJ45), PC-free (USB stick)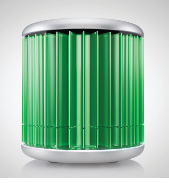 MyGo Mini Real Time PCR
The MyGo Mini is the world's most compact real-time PCR instrument, with no moving parts for silent operation and maximum reliability. It provide users with great results over a broad range of applications. Personal precision...
| | |
| --- | --- |
| Number of reactions | 16 |
| Format | 0.1ml tubes |
| Reaction volume | 10 - 100μl (20μl recommended) |
| Temperature control | |
| Method | Peltier |
| Range | 37-99°C |
| Speed | 3°C/s heating, 1.5°C/s cooling |
| Run time | < 60 minutes |
| Temperature control | |
| Resolution | 01°C |
| Uniformity | 0.05°C (SD) |
| Accuracy | ± 0.25°C |
| Fluorescence Excitation | 500nm (blue LED) |
| Detection | 510 to 560nm (CMOS array) |
| Multiplex level | Duplex |
| Sensitivity | Single copy detection |
| Dynamic range | 9-log |
| Precision | 1.1 fold discrimination |
| Factory calibrated dyes | SYBR Green I, ResoLight, FAM,VIC, HEX, CAL540, CAL560 |
| User selected custom dyes | Yes |
| Supported assay formats | Intercalating dyes (e.g. SYBR Green I), Hydrolysis Probes |
| Connection options | LAN, Direct connection to computer (RJ45), PC-free (USB stick) |
| Dimensions | W 12cm x D 12cm x H 16cm |
| Weight | 2.5 kg |
| Operating noise | Silent |
| Voltage | 100 - 240V AC ± 10% |
| Frequency | 47-63Hz |
| Power | 90W |